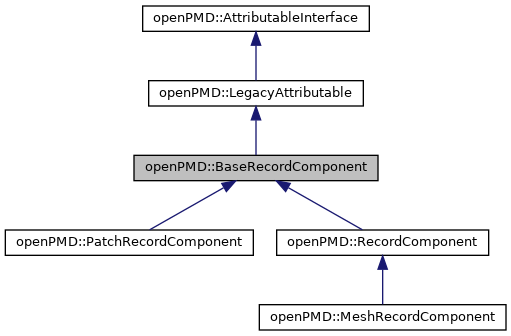 [legend]

[legend]
template<typename T , typename T_key , typename T_container >
class 
Container
 
◆ availableChunks()
| | | | | |
| --- | --- | --- | --- | --- |
| ChunkTable openPMD::BaseRecordComponent::availableChunks | ( | | ) | |
Get data chunks that are available to be loaded from the backend.
Note that this is backend-dependent information and the returned information may hence differ between different backends:
The ADIOS backends (versions 1 and 2) will return those chunks that the writer has originally written.
The JSON backend will reconstruct the chunks by iterating the dataset.
The HDF5 backend will return the whole dataset as one large chunk. HDF5's notion of chunking is currently ignored. (https://support.hdfgroup.org/HDF5/doc/Advanced/Chunking/)
The results depend solely on the backend and are independent of any openPMD-related information. Note that this call currently does not take into account the openPMD concept of particle patches, which users may additionally wish to use to store user-defined, backend-independent chunking information on particle datasets.
◆ constant()
| | | | | |
| --- | --- | --- | --- | --- |
| bool openPMD::BaseRecordComponent::constant | ( | | ) | const |
Returns true if this is a constant record component.
In a constant record component, the value for each date in its extent is the same.
Returns

true if a constant record component
---
The documentation for this class was generated from the following files:
/tmp/tmp.7iNmvGSbic/openPMD-api/include/openPMD/backend/BaseRecordComponent.hpp
/tmp/tmp.7iNmvGSbic/openPMD-api/src/backend/BaseRecordComponent.cpp